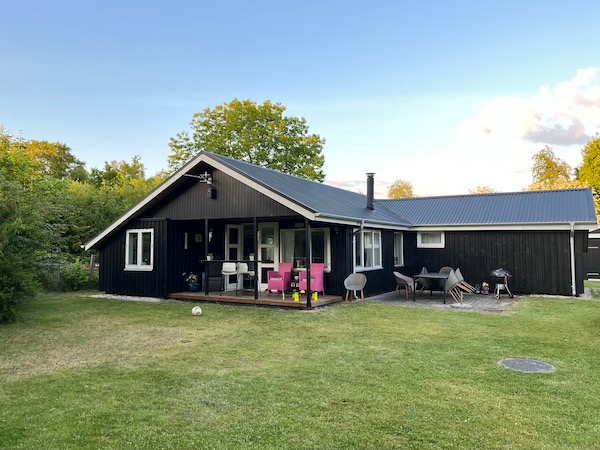 The summer cottage is within walking distances to the ocean (both Limfjorden and Kattegat) as well as areas of scenic beauty. Only 200 metres from the summer cottage you'll find a grocery shop that is open every day of the year.
The summer cottage consists of 3 bedrooms where 5 people can sleep as well as a big living room, with a sofa and a dining room table. Furthermore, there is a kitchen with a stove, dishwasher and coffeemaker. In the bathroom you'll find a toilet, a shower and a washing machine.
The house is filled with board games, movies and other fun activities for families.There are also a tv, wifi and a fireplace in the living room.
The summer cottage has a large, enclosed garden with room for multiple activities and several seating areas. In the garage you'll find outdoor games for children and a grill for the warm summer nights.
Egense is located around 25 kilometres east of Aalborg, the fourth largest city in Denmark with a population of more than 200.000. In Aalborg you can visit the local art museum, the zoo and enjoy the cafés and shops around the city. A 15 minutes walk or 3 minutes drive, will take you to the small ferry and a trip of around 5 minutes to the city of Hals. In Hals there are restaurants, shops and a small harbour to enjoy.
Prices
The price for renting the summer cottage:
High season (week 24-33): 4500 DKK./week.
Off-season (week 17-23 and week 34-39): 2500 DKK./week
Weekend (thursday-sunday) in the off-season: 1500 DKK
Deposit: 1500 DKK (must be paid within 14 days of the signing of the contract).
If you are not willing to clean the house after your stay, the cost will be an additional 650 DKK.
If you have any further questions please contact us here.